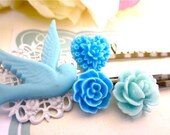 Lovey collection of blues for Spring or Summer!
A Shabby Chic set of hair accessories includes four hair pins, four shades of blue and four different cabs for your hair. A bird dove with outstretched wings sets out for flight on a white filigree bobby pin, a heart shaped blue bouquet of flowers, a petite blue posie, and a lovely light blue cabbage rose on 2" antique bronze colored hair pins comple...
Click Here to Visit My Etsy Shop!