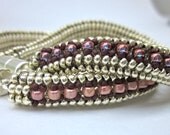 Love to stack? Beaded bracelets and mixed textures are the hippest style in fashion.
This bracelet is hand strung in a herringbone weave. It is a tube style pattern and is silver with the center of one side running the length in purple beads. It has a very secure magnetic clasp.
This bracelet can be worn showing only the solid silver side or the accented side. What mood are you in today?
...
Click Here to Visit My Etsy Shop!