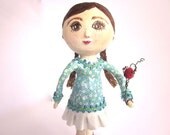 She is a one of a kind 12" handmade Art Doll.
This young Miss stands poised to play and pretend, her thoughts take her to far away places of make believe. Everyday is dress up day and every moment filled with fantasy and fun. She has long brown hair braided in two. She holds a wire wand shaped into a heart with a spot of red for the love she carries.
My art dolls are made by me with layers ...
Click Here to Visit My Etsy Shop!