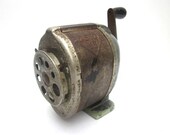 Wonderful industrial metal Art Deco pencil sharpener from school for an rusty and aged looking decor item with much character and patina.
Labled BOSTON KS and has four holes to secure to a flat surface.
I do not think it is functionable anymore but sure is pretty cool looking.
4.25"H x 3"W x 5.25"D
I combine shipping on multiple purchases. Please feel free to ask fo...
Click Here to Visit My Etsy Shop!