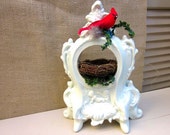 SALE Originally $36.00
Lovely re purposed ceramic clock mantle has become home to a red cardinal and her gold laced nest. She sits on top of her new home and awaits her babies return.
The mantle is a vintage re purposed item and has been painted for this altered art piece. The back of the mantle shows a previous repair and a special wedding wish inscription for it's original owners in 1975....
Click Here to Visit My Etsy Shop!