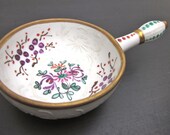 I'm not exactly sure what to call this sweet little porcelain piece, it looks like a little saute pan but obviously is not. Perhaps a small service dish, but what ever it is called it is most definitely beautiful! Hand painted in jewel tone colors of green, red, purple and brown. Raised pattern on inside and outside. Adorable little handle and trimmed in gold.
5"W x 2.4"H (from tip of handle to o...
Click Here to Visit My Etsy Shop!