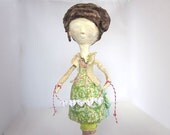 You may look at her and wonder...who is she? What is she doing? What color are her eyes? Then I must ask you to look at her again, see beyond, how does she make you feel?
This is who she is. A feeling. A spirit.
Her brown hair is piled high on her head with a loose curl in front of her face. she wears a brocade dress with layer upon layer of ruffles on the back. A sweet fitted coat in ivory and...
Click Here to Visit My Etsy Shop!