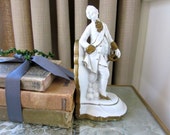 White Victorian Gentleman bookend has gold trim . Hand painted, one foot is without a shoe (perhaps paint has been rubbed off). Lovely vintage wear. Made in Japan. Stamped in red.
7.5"H x 4"W
There was a cork wedged in the bottom where there is usually a hole in most of these pieces. I was wondering what it was doing there, so I pushed it in to find this piece was filled with some kin...
Click Here to Visit My Etsy Shop!